Home
»
General Z Scale
»
KVPs gallery
» german diesels
Total images in all categories: 10,980
Total number of hits on all images: 12,041,176
german diesels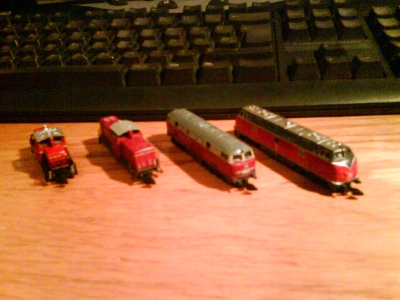 Image information
Description
On the photo are some z scale postwar german diesels. From left to right: V60, V100, V160 and V200. All of them are diesel hydraulic in ep.III. altrot (old red) paint, so something one could see around 1960-1970. I just finished some repairs, so this is the first time all four of them are in running condition.
Date
Saturday, 28 November 2009
Filesize
106.45 KB (400 x 300 px)
File size of the original image
368.33 KB (1600 x 1200 px)
Comments for this image
There are no comments for this image yet.
Guests are not allowed to post comments. Please register...
Home
»
General Z Scale
»
KVPs gallery
» german diesels