Home
»
General Z Scale
»
Socalz44 Misc.
» Look What I Found
Total images in all categories: 10,980
Total number of hits on all images: 12,049,751
Look What I Found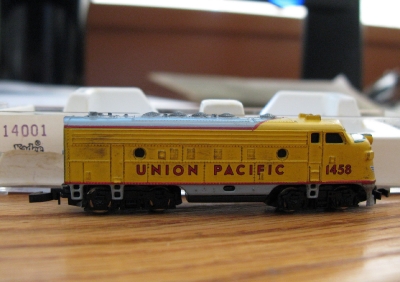 Image information
Description
I was cleaning out an old trunk and I found this loco in it. On the bottom it says MicroTrains and Kadee. The product number is on the box. How old is this and why do I have it? At some point I weathered it, but have ZERO recollection of ownership. Marklin couplers so I must have just been curious. I don\\\'t think I started in Z scale before 2000, but I\\\'m not sure. Any answers? Rob? I ran it on my test/warm up track and it would barely crawl. I added a tiny drop of oil to the gears on the bottom and it went forward ok for while then slowed, but reverse is just crawling. Doesn\\\'t mean someone with more brains than me couldn\\\'t get it to run and change couplers. I know I\\\'ve never run it. Make me an offer or maybe I\\\'ll list it as a prize in next month Scratch Building Contest. Cheers, Jim CCRR
Date
Wednesday, 17 March 2010
Filesize
85.66 KB (400 x 282 px)
File size of the original image
299.28 KB (1358 x 960 px)
Comments for this image
There are no comments for this image yet.
Guests are not allowed to post comments. Please register...
Home
»
General Z Scale
»
Socalz44 Misc.
» Look What I Found